Our E-Store
Robertshaw Vibration Switch 571A-A
Model 571A Vibration Transmitter
Intrinsically Safe, Loop-Powered, Stud Mounted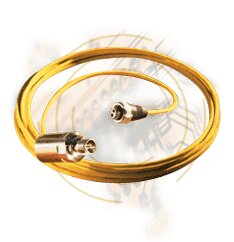 Robertshaw's model 571A is a loop powered, (14 - 32 VDC) IS vibration transmitter that provides a 4-20 mADC output proportionate to vibration.

The transmitter is available with a variety of acceleration and velocity ranges. This rugged (316L Stainless Steel, NEMA 4X, IP68) compact unit provides continuous monitoring of machine vibration for trending, alarm and/or shutdown when used with a PLC, computer, DCS, data logger or current relays. When used with an approved barrier the transmitter is intrinsically safe for use in hazardous locations. Without a barrier the transmitter is rated non-incendive.

Installation is simple and no calibration is required. A 1/4-28 tapped hole and a 1/4-28 stud is provided for mounting. The unit has a 2 pin connector and mates with a standard MIL-C-5015 2 socket connector with splashproof boot for a weatherproof, splash-proof connection. Optional cable assemblies are available in lengths of 16, 32, 64 and 112 feet.
Features & Benefits
Two wire loop powered (12 - 36 VDC)
4 - 20 mADC output (isolated)
Compact design, 1.12 diameter, 2.80 inches height
Corrosion resistant (316L Stainless Steel
NEMA 4X, IP68, hermetically sealed enclosure
ESD and EMI protection
Overload protection
Reverse wiring protection
Available for either acceleration or velocity measurement
CE Certified
No Trim Pots Required
Model

571A - A Acceleration, 0 - 5 G peak
571A - B Acceleration, 0 - 10 G peak
571A - C Acceleration, 0 - 20 G peak
571A - D Velocity, 0 - 0.5 IPS peak
571A - E Velocity, 0 - 1 IPS peak
571A - F Velocity, 0 - 2 IPS peak
 

Accessory Items 

086568A0016 - Standard IP66 Cable 2 conductor shielded MIL-C-5015 2 socket splash-proof boot.
086568A0032 - Standard IP66 Cable except 32 foot
086568A0064 - Standard IP66 Cable except 64 foot
086568A0112 - Standard IP66 Cable except 112 foot
435KB311 - Mounting stud for 1/4-28 tapped hole (supplied with transmitter)
435KB311-01 - Mounting stud for 3/8-24 tapped hole
435KB311-02 - Mounting stud for M8 X 1.25-6G tapped hole
435KB311-03 - Mounting stud for M6 X 1.00-6G tapped hole
435KB311-06 - Spot face tool, ∅1.25, with pilot drill for 1/4-28 tapped hole. Drill depth is adjustable.
Please see data sheet for other accessories